Rock climbing, a divided island & peace
One of the most exciting things in climbing is sharing the love for rock climbing with so many different people all over the world.  Through those years i am finding out that climbing gives us many options: to learn, to perform,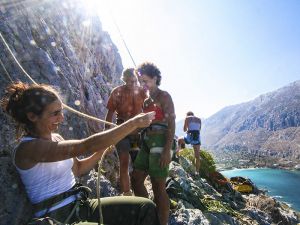 to evolve, to improve, to have fun, meet people, travel and discover new culture and definitely became a better version of who we are. Climbing can impact our lives in a social level and additionally it can promote an open minded attitude and peace oriented way of living without any discrimination of religion, identity, or man made borders. More specifically, climbing showed me from a personal experience that there is no border in any land but it is in our minds we have let go of it.
Cyprus is where my family is, where i was born and grew up. Cyprus is an island in the eastern Mediterranean sea. Just like most of the islands in the Mediterranean sea, Cyprus is naturally beautiful combing the sea and the mountains.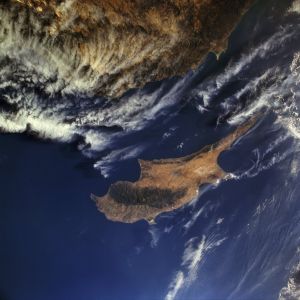 What differs Cyprus from the other Mediterranean islands is the political situation. Cyprus has been in an intense and complicated history from ancient years and this has brought a lot of confusion and conflict in Cypriots lives and minds (77% Greek Cypriots, 18% Turkish Cypriots, 5% other  nationalities ) living united on the island for the first time as an independent country in 1960.
Since this article has no intention on any historical or political enlightenment, i will not describe any further details regarding the current political state (for those who are interested i encourage you to go through a Google search for Cyprus invasion 1974, Cyprus independence 1960 etc…). After 1974, Nicosia is the only divided capital yet remaining in Europe now.
… Nicosia divides their side from our side … with a man made border line .
…. 35 years after the war of 1974 I met for the first time a climber from Cyprus on the Greek island of Kalymnos. And I say first time because it was a Turkish-Cypriot climber from the North.  I have never met any Turkish-Cypriot before, as i was living in Southern Cyprus, and the borders diving Northern and Southern Cyprus  where closed and we couldn't cross the other side, but also because of the pain, the lost and all the confusion and hate the war of 1974 left behind to the island of Cyprus.
All i knew for Turkish-Cypriots was stories from my parents, that hey were living peaceful together with a few sad conflicts between them before the war, stories from school and Cyprus history, stories for a violent war that ended up unfortunately dividing our island and the citizens of the island… I was confused, sad for the consequences that the war created in Cypriots lives but also broken from my parents' and grandparents' lost.
I was never expected to be as surprised, nervously happy and curious when i met a Turkish-Cypriot person.
I found my self re-collecting all the pieces of the puzzle to re-form an image for Cyprus, an image where there is more space for love, understanding, compassion, empathy and sharing.
Climbing gave me the choice to openness.
This choice helped me to find out that despite the fact that the Turkish-Cypriots and the Greek-Cypriots we grew up separately and divided from the physical borders created after the war, we still have the change in our hands to reconnect and rediscover our lost, forbidden and forgotten parts of our island and our soul.
This choice helped me to find out that the connection between us was always there and it will always be.  I met with a Turkish-Cypriot friend and "ex-enemy "  to find out through climbing that we are connected and we share similar cultures, visions and passions and dreams, worries and concerns.
I have realized that through my love for climbing, there are no borders; borders only exist in our minds. We can go beyond those borders through these activities that we love.
After founded Climb Mediterranean and start teaching climbing on Kalymnos, i was always feeling that sense of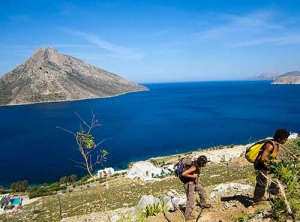 gratitude of how climbing can give to all of us that choice of openness and how it can potentially help for a more loving, empathetic and caring attitude toward each other.
I Tania a Greek Cypriot climber met,  Nazo a Turkish Cypriot climber through climbing. This friendship evolved with time and we decided to use our experience through climbing to connect more Cypriots together, and promote peace on Cyprus through climbing.
That drawn me to share my thoughts and emotions with Nazo many years ago for doing something together. She fully supported me and i found out that she was sharing similar thoughts.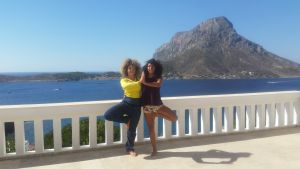 Our project started to realize in 2015 when we got our first funds to promote peace on our island through climbing from Sir. Stelios Haji-ioannou through his foundation ( Stelios bi-communal award ) . We have applied and won two times in a row and i really would like to thank Sir.Stelios for helping us through this project. We use the funds to support our yoga&climbing  retreats in Southern and Northern Cyprus and bringing more Cypriots together to climb on the mountains of Cyprus.
We have organized several Yoga&Climbing retreats on Cyprus and Kalymnos with several participants from Cyprus but also all over Europe that were interested in our idea of promoting peace on Cyprus thought yoga and climbing .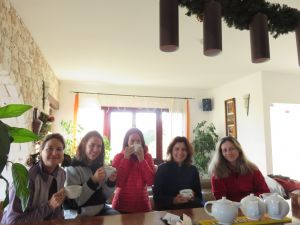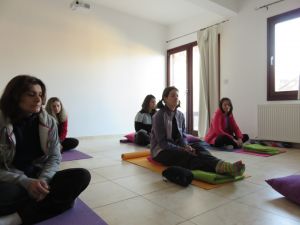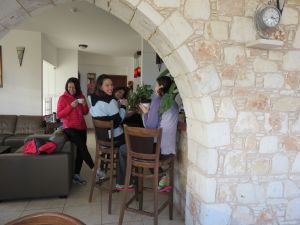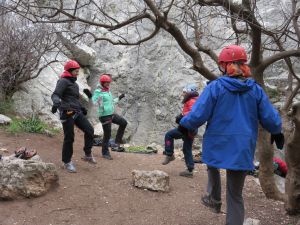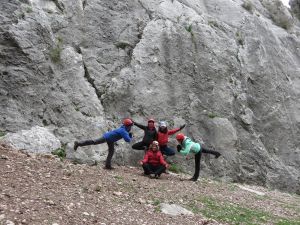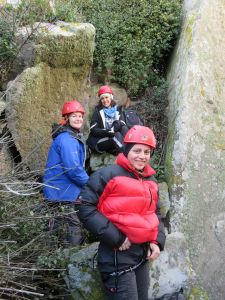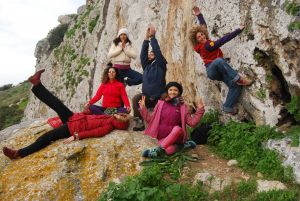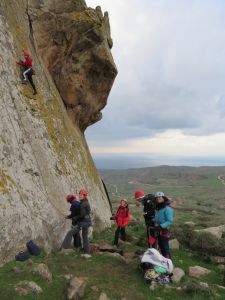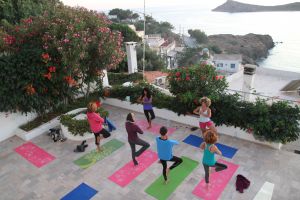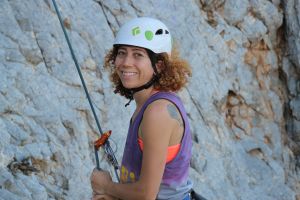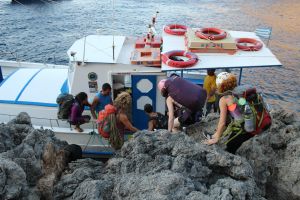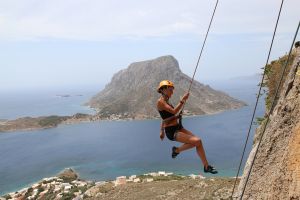 I believe that despite the borders and the current situation on Cyprus, there is still hope for more openness!